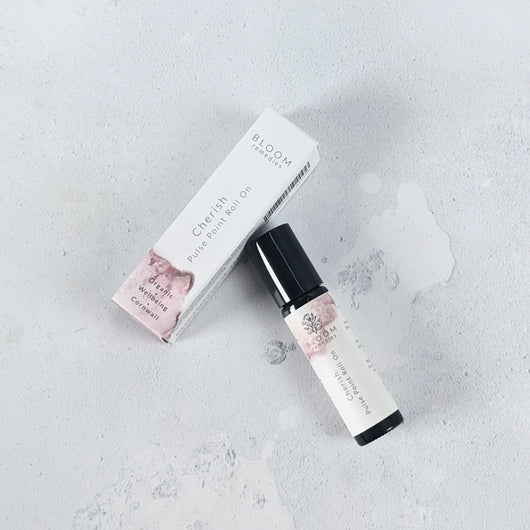 Cherish Pulse Point Roll-On with rose & cedarwood
Regular price £10.00 Sale
Our heart is our home.  This aromatherapy pulse point is infused with heart loving Rose, balancing Rose Geranium and strength giving Cedarwood essential oils to encourage you to Cherish the self, in moments of self-love and self-care.  
Apply to the pulse points in a slow ritual of aromatic nurturing self care, and inhale during the day to encourage your own worth and value
100% vegan.  In amber glass bottle that helps on our environmental journey towards plastic free
10p from every Cherish Pulse Point Roll-On goes towards supporting our charity partner Wellbeing of Women - this fantastic UK charity invests in pioneering research into women's health. 
Size: 10ml
Key Ingredients:
Fractionated coconut oil
Rose essential oil to encourage self love and open the heart to self care
 Cedarwood essential oil to encourage resilience and inner strength
Rose Geranium essential oil to nurture and balance the emotions
Full Ingredients:
Fractionated coconut oil, Rose essential oil, Rose Geranium essential oil*, Cedarwood essential oil*
*Organic ingredient. Contains Geraniol, Limonene, Linalool, Citral, Citronellol, Farnesol, Eugenol - natural component of essential oils
Apply to the wrist and temple pulse points during the day and deeply inhale to nurture your heart and encourage self care and self love.